Benefits of a Mommy Makeover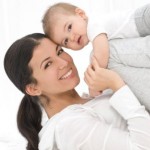 New mothers are often so thrilled with their new baby, that it is often not until a year or two post-partum that women begin to feel that the body that they assumed would "bounce back" following the baby, has not done so. The process of gaining and losing weight as one does during a pregnancy, breast- feeding resulting in a loss of breast volume, separation of the stomach muscle (diastasis) and loose skin, are often complaints that we hear from women who are seeking a mommy makeover. These issues can occur regardless of whether the woman has gotten back to her pre-pregnancy weight and are ones that are not going to correct themselves through diet or exercise.
Some women question whether it is a good idea to have two procedures, such a breast augmentation  (or breast lift) and tummy tuck or liposuction performed at one time and whether this is a safe approach to surgery. The answer is "yes" it is safe to have the procedures done at the same time, and there are some benefits to doing so.
One of the benefits is a cost savings. By having the procedures at the same time, there is often a price break on surgery. In addition, there is only one charge for anesthesia and the surgical facility, which can be a fairly considerable cost of a surgical procedure. Women with young children at home also like the convenience of only requiring one recovery period from surgery, as finding caregivers can be challenging as is time away from their children. Lastly, one benefit many women appreciate the most, after their recovery they have a tight, sleek tummy, no more loose skin, and full, lifted breasts. It is easy to understand why a Mommy Makeover is one of the most satisfying procedures reported by women on RealSelf, with a 95% satisfaction rate.
If you are interested in learning more about a Mommy Makeover, please contact Dr. Steven Ringler for more information or a complimentary consultation.