Breast Implants That Come with a Protection Plan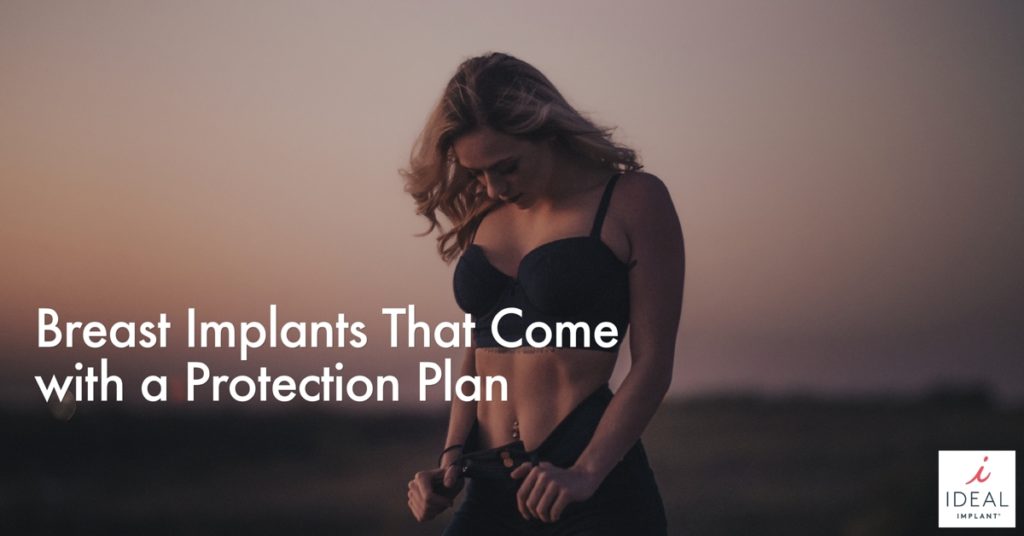 A 2017 report by the American Society of Plastic Surgeons (ASPS) states, "Breast augmentation continues to be the top cosmetic surgical procedure and has been since 2006." Why is it so popular? It has a high patient satisfaction rate. In the May 2013 issue of Plastic and Reconstructive Surgery, findings from a study of 225 women following their breast augmentations concluded that 91.1% experienced improved self-esteem, and 64.3% reported better quality of life.
While receiving breast implants is a wonderful way to increase your confidence and achieve the look you desire, it is important to be aware that the need for unexpected postoperative procedures may arise. When women choose the IDEAL IMPLANT® Structured Breast Implant, their future is secure. Protection plans available with the IDEAL IMPLANT allow women to enjoy their implants, without the worry of potential costs down the road.
What is the IDEAL IMPLANT?
As an IDEAL IMPLANT Premier Surgeon, Dr. Steven Ringler offers this new, innovative implant option that combines the benefits, without the drawbacks, of both silicone gel and saline implants. Due to the advanced internal structure of the IDEAL IMPLANT, women can now have the natural feel commonly associated with silicone gel, plus the peace of mind that comes with saline. No other implant gives the best of both worlds.
The IDEAL IMPLANT is made up of a series of shells nested together that hold two separate chambers filled with saline. If a rupture occurs, the saline filler is harmlessly absorbed by the body. This means no MRIs are needed to detect rupture, and no risk of "silent rupture." Furthermore, this technology-driven design reduces wrinkling and rippling, controls the movement of the saline to mitigate sloshing, provides desired projection with a realistic look, and supports the implant edge to prevent collapse when upright.
Protection Following Your Breast Augmentation
But women get so much more with the IDEAL IMPLANT. For no extra cost, women who choose IDEAL IMPLANT Structured Breast Implants are automatically enrolled in the Basic Protection Plan provided by IDEAL IMPLANT Incorporated. This limited warranty offers financial assistance of up to $3,500 to help with uninsured out-of-pocket surgery costs for deflation for 10 years. In other words, the plan provides a free IDEAL IMPLANT replacement during a woman's lifetime for deflation, and the first 10 years for capsular contracture.
For further protection, an additional plan is available. The Premium Protection Plan includes all the benefits of the Basic Protection Plan, plus offers lifelong, extensive financial assistance to help women avoid the cost and worry of unexpected, uninsured costs following their breast augmentation surgery. This includes $10,000 in financial assistance during the first 60 days after receiving the IDEAL IMPLANT, $5,000 in financial assistance during the first year, and $5,000 in financial assistance during subsequent years.
The $10,000 in financial assistance covers bleeding, infection, anesthesia, blood clots, and wound healing events. The first-year $5,000 in financial assistance is for capsular contracture, deflation, insertional scar revision, and related events. Then the $5,000 in financial assistance during subsequent years is also for capsular contracture, deflation, insertional scar revision, and related events.
How to Get the Premium Protection Plan
To get the Premium Protection Plan, a woman must simply enroll with their plastic surgeon prior to receiving the IDEAL IMPLANT. The cost is only $189 for primary breast augmentation, or $249 if exchanging existing implants. The Premium Protection Plan is then renewable annually for life for just $79. A woman must contact her plastic surgeon each year and ask to renew the plan in order to remain enrolled. If the plan is not renewed, the Basic Protection Plan will automatically apply for the remainder of its original term. For further details about these two plans, watch the video below:
http://https://youtu.be/tIzDRh6s1VE
Why Purchase This One-of-a-Kind Plan?
The Premium Protection Plan is designed to help pay the uninsured, out-of-pocket expenses for problems that might occur after receiving breast implants. Many health insurance plans do not cover cosmetic surgery or postoperative problems from cosmetic surgery.
Also, on www.fda.gov, the FDA states: "Breast implants are not lifetime devices. The longer you have breast implants, the more likely it is that complications will occur and you will need to have them removed. There is no guarantee that you will have a satisfactory cosmetic outcome from any reoperation. The type of surgical procedure performed during a reoperation depends on the complication involved. You may need to have one or more reoperations over the course of your life due to one complication or a combination of local complications."
The Premium Protection Plan offers security in your future, and a peace of mind throughout the life of your implants.
Breast Implants With Dr. Ringler
As a board-certified plastic surgeon and IDEAL IMPLANT Premier Surgeon, Dr. Ringler understands the importance of patient education. If you are considering breast augmentation, he will take the time to answer your questions and address your concerns. He is dedicated to helping his patients achieve their goals and feel confident in their choice to receive breast implants. You can expect high quality care and an exceptional bedside manner from Dr. Ringler. For more information about the IDEAL IMPLANT, call 616-328-8800 today to schedule your no-obligation consultation, or visit stevenringlermd.com.