Early Surgery Is Key for Children with Cleft Lip and Palate
Early diagnosis and surgery can greatly improve a child's quality of life if he or she is born with a cleft lip and palate, according to womenshealth.gov.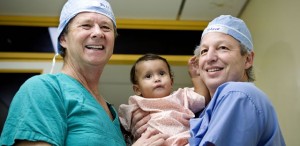 A cleft lip and palate is the second most common birth defect and one that many plastic surgeons work to correct. Reconstructive surgery on a cleft lip and palate can greatly improve one's quality of life. After surgery, improvements are made in speech and communication, eating and breathing, as well as in the aesthetic appearance of the patient.
Before a child is born, experts say taking steps to provide a prenatal diagnosis as well as preparing the parents for the child's birth, if a cleft lip and palate are found, are paramount. Most often, this diagnosis is made with an ultrasound. Once determined, the doctor and parents should create a treatment plan, which should include surgical correction of the cleft lip and palate, according to Dr. Richard Redett, a pediatric plastic and reconstructive surgeon and co-director of the Cleft & Craniofacial Clinic at Johns Hopkins Children's Center. Redett says that surgery performed before the child is one year old is most effective, and ensures the child's speech develops normally.
In the cleft lip and palate surgery, which may be performed individually, the separation or split in the lip and palate are closed, which normalizes appearance and helps restore function, which was likely impaired.
In some cases, however, cleft lip and palate may be preventable. Dr. Redett suggests pregnant women take daily folic acid, avoid even secondhand smoke, discuss any medications with their doctor and look into their family history to see if the birth defect may be genetic.
Grand Rapids plastic surgeon Dr. Steven Ringler regularly volunteers with Operation Smile and co-founded the Michigan chapter with his wife, Andrea. Operation Smile works to correct cleft lip and palates for children around the world.