Exilis ELITE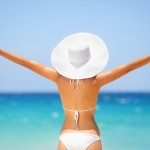 There are many new non-surgical devices for improving appearance that come on the market each year.  Deciding which technology to choose that makes sense for our practice and patients can be a bit daunting.  We look for devices that are FDA approved, safe, and can offer significant, effective results.   Some years there are no non-surgical devices that fit our criteria.  This year, we have added BTL's Exilis ELITE to our line of non-surgical treatment options.
A second generation device, Exilis ELITE utilizes radiofrequency technology that targets fat cells for body contouring and also offers skin tightening benefits.  It is an office procedure that requires about an hour per treatment.  For facial treatments where skin tightening is the goal, 3-4 treatments spaced about 7-14 days apart are recommended.  For body contouring 4-5 treatment sessions are typically required depending on the body area and specific concerns.
Performed by our medical aesthetician or our registered nurse, patients remain comfortable while the warm applicator is moved quickly over the treatment area. A built-in cooling device insure that the skin does not become too hot.  Depending on whether the goal is body contouring or skin tightening, the RF settings can be adjusted for various depths for maximum effectiveness.
Unlike our Ultherapy treatment, which uses ultrasound technology for lifting and tightening the skin, and our CoolSculpting device, which uses cryolypolisis to freeze the fat, using radio frequency technology, our Exilis ELITE is able to treat other areas that have been impossible to treat with the other devices.  In addition to face, neck,  abdomen, and back fat the Exilis ELITE can be used on arms, knees, male breast, and thighs safely.  This has been a real benefit for patients who seek fat reduction or skin tightening in those areas. While not a replacement for liposuction or a facelift, for patients who do not want surgery, Exilis ELITE  offers a safe and effective alternative for skin tightening and targeted fat reduction.
If you are interested in learning more about body contouring and facial procedures, please contact Dr. Steven Ringler today for a private, complimentary consultation.