Exilis Ultra – Non-Surgical Skin Tightening and Body Shaping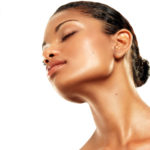 The Center for Aesthetics and Plastic Surgery is excited to introduce BTL's Exilis Ultra to our line of non-invasive body shaping and skin tightening technologies.  Although we have offered Exilis Elite, a radio frequency device for heating and reducing fat for several years, Exilis Ultra is a an FDA cleared, third generation device that offers both radio frequency and ultrasound technology to help you achieve results more quickly and effectively.
Exilis Ultra is able to help tighten the skin and reduce fat virtually from head to toe. Patients love this technology because it is effective in areas than can be challenging to treat with other modalities such as the knees, arms, lips, buttocks and neck.
There is no downtime with Exilis Ultra and each treatment takes about 30-45 minutes. Most patients require about 2-4 treatments for the face and 4-6 treatments for the body.  This can be a lunchtime procedure and is painless.  Patients tend to realize their results more quickly than with  other non-invasive devices.
At the Center for Aesthetics and Plastic Surgery we offer several different non-invasive technologies for reducing fat and non-surgically tightening and lifting the skin in addition to Exilis Ultra; Ultherapy,  an ultrasonic device which is primarily used to treat the face, neck and decollete, CoolSculpting for freezing the fat in isolated areas, and Vanquish an RF treatment for heating the fat in generalized areas.
We customize your treatment protocol based on your own goals and desires, and often offer combination therapies for best results.  Please call Dr. Ringler to learn more about Exilis Ultra and see if it may be of benefit to you 616.328.8800.