Facial Aging Accelerated by Smoking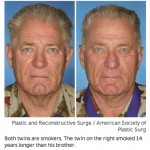 As if there weren't already enough evidence to convince the public of the negative health affects of smoking, a recent article in the journal of Plastic and Reconstructive Surgery shows that smoking also greatly accelerates the aging process.
The study, led by Cleveland, Ohio plastic surgeon Dr. Bahman Guyuron, studied sets of twins from the Annual Days Festival held in Twinsburg, Ohio.  There were 79 sets of identical twins participating in the study. A panel of three plastic surgery residents were asked to compare the photos of identical twins, of which one had been a smoker for at least five years longer than the other.
The plastic surgery residents were able to identify at least four major areas of accelerated aging in the faces of the twin who smoked; droopy upper eyelids and saggy lower eyelids, more wrinkles around the mouth and facial jowls. Dr. Guyuron explained, "Smoking reduces oxygen to the skin, which also decreases blood circulation, and that can result in weathered, wrinkled, older-looking skin."
The authors explained that the purpose of the study was not to make smokers feel worse about themselves, but to show that by quitting smoking now– as some of the twins had only smoked five years less than their sibling – you can still reverse some of the negative impact on your health, including lungs, heart and premature facial aging.
Although procedures such as a blepharoplasty can help with upper and lower eyelid droopiness, and a surgical facelift and facial fillers such as Radiesse can improve the jawline and help fill wrinkles, for overall improved health, it is far better to quit smoking.  Additionally, smokers typically have a longer recovery period after surgery due to decreased oxygen levels and poor circulation.
If you are considering cosmetic plastic surgery, please contact Dr. Steven Ringler for a private, complimentary consultation.