Facial Volume Creates Youthful Appearance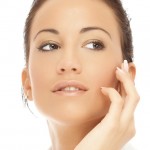 Patients often believe that tightening and lifting the skin with a facelift is the only way to recreate a more youthful appearance for the face. If you look at pictures of yourself when you were in your 20′s, the most apparent thing you will most likely notice is that your face was fuller when you were younger. Through the aging process our faces tend to lose volume as the fat breaks down. If you had a rounder, chubbier face in your 20′s, you may be very happy with more evident cheekbones and loss of some of the facial fat as your face matures. For many women and men, however, loss of fat in the face leaves cheeks too hollow and facial bones overly prominent with cheek wrinkling more evident.
In my practice, the MACS lift is the gold standard for patients desiring a beautiful, natural facelift with results that don't appear overly tightened while offering minimal downtime. Often with this procedure we will add Radiesse as a facial filler to the hollow areas of the face which have lost volume over time, or to the nasal labial folds (marionette lines) that extend from the nose to the mouth. When patients have Body-Jet liposuction, the undamaged fat cells may be used as a long-lasting, all natural filler for the face.
For those not ready for a facelift, or those who have had a facelift but want to enhance their result, Ultherapy, the non-surgical, ultrasonic device for lifting and tightening the skin by stimulating collagen, is a nice alternative. Ultherapy, combined with facial fillers, may provide the subtle lift and tightening some patients seek along with providing some added volume for a more youthful appearance. The overall condition of the skin tone and elasticity may be a strong determinant as to how well the skin will respond to this non-invasive treatment.