Fat Grafting for the Body and Face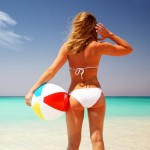 Fat grafting has become extremely popular for patients who wish to augment one area of the body and reduce another. The current popularity in buttock augmentation has many people seeking out this procedure. Typically, the fat is harvested through liposuction, the fat cells are then injected into another area of the body where more volume is desired. However, there are other areas of the body that can also benefit from fat grafting, including those who have lost volume in the face, or those who want some natural filler for breast augmentation, or even adding some sculpting to the shoulders, legs or stomach to create more definition.
The benefits of fat grafting are numerous; there is no chance of rejection since you are using your own fat cells. Mother nature does not always distribute her gifts evenly, and many patients find themselves overly endowed in one area, and under developed in another. Gravity and time can also shift fat and reduce volume, and fat grafting can be a great tool for reshaping and sculpting the body back to a more balanced state.
Although the fat cells that are removed during fat grafting are gone for good, the fat cells that are injected to another site do not all survive. According to ASPS report, the typical survival rate of transferred fat is around 40-60 percent depending on location of the transfer and individual differences. Those cells that do survive offer long-lasting results. The patient does need to have enough fat cells to transfer, so it may not be a good option for patients who are too thin. Although we have patients who have offered to be donors, unfortunately, you can only use your own fat cells for successful fat transfer.
Fat grafting will continue to evolve over the years, and may be a good option for those patients looking to subtly reshape and balance areas of their body, and those with realistic expectations about what it can and cannot accomplish. If you would like more information about fat grafting, please feel free to contact Dr. Ringler to set up a consultation.