Grand Rapids Xeomin – Latest Option in Attacking Wrinkles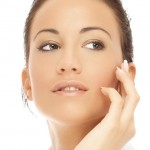 In July, the FDA approved Xeomin (Z-O-MIN) as the latest botulinum toxin type A treatment to help reduce wrinkles.  Joining Botox and Dysport, Xeomin works on the same principle as both of the other products by temporarily blocking the signals from the nerves to muscles. The FDA approved Xeomin for treating the wrinkles between the eyebrows, sometimes referred to as the "11's" and keeps those muscles from fully contracting, thereby reducing wrinkling.
The product has been used around the world since 2005 and was introduced to the United States by Merz Pharmaceuticals in 2010.  In the past, it has been used to treat adult cervical dystonia, decreasing their neck pain and abnormal head positions as well as being used for patients with abnormal eyelid spasms.
Xeomin works in basically the same way as Botox and Dysport, but there are a couple of differences.  Xeomin does not have the additives that Botox and Dysport use, and therefore may lessen a patient's likelihood of developing antibodies to it.  If your body discovers a foreign invader, it would typically respond by creating antibodies and launching an attack.  This could prevent a neurotoxin such a botulinum toxin type A, from having its desired effect.  Xeomin does not contain any other ingredients other than the active botulinum toxin type A .  Like Botox, Xeomin takes about a week for the results to be fully realized, and once this occurs, results last between 3-6 months.
According to the American Society for Aesthetic Plastic Surgery, there were about 2.5 million Botox and Dysport procedures in 2010 alone, so there is no doubt there is demand for these wrinkle -reducing procedures.  As with all cosmetic procedures, please seek out an experienced, board-certified plastic surgeon if you are considering facial injections.
For more information about Xeomin or to schedule a consultation, please call Grand Rapids Plastic Surgeon, Dr. Steven Ringler at 616.328.8800