Introducing SkinPen by Bellus Medical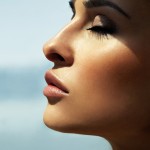 For those looking for a non-invasive way to reduce hyperpigmentation, acne scarring, stretch -marks and soften fine lines and wrinkles, there is good news. We are now offering SkinPen, created by Bellus Medical. SkinPen is a state-of-the-art, collagen induction device that closely resembles a pen. The SkinPen works by creating micro-channels in the dermis to help products penetrate the skin more effectively and thereby increase their efficacy. In addition, the micro-channels help stimulate new collagen and elastin in the skin over the following weeks.
Performed in the office in about 30 minutes by a medical aesthetician or RN, the patient relaxes while a cool gel is introduced to the skin. The device, which feels like a warm roller ball while being applied to the skin, can be used on any area of the body and is particularly effective at helping to reduce acne scars, hyperpigmentation and softening fine lines and wrinkles. The overall effect is one of healthier skin that appears refreshed. For deeper scars or those with heavy environmental damage, a series of treatments spaced 1 month apart is recommended.
While not a replacement for a facelift, SkinPen can be of benefit to those who have irregularities or damage to the skin but who do not want the downtime of lasers, chemical peels, or surgery.
Dr. Ringler is the first plastic surgeon in Grand Rapids to offer SkinPen to his patients. If you would like to learn more or to set up a private consultation, please call us at 616.328.8800.