Key to Eternal Beauty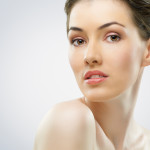 Do you ever run into someone who looks like they hold the key to eternal beauty?  They possess vitality, beautiful skin and a youthful, healthy glow regardless of their age.  I have been performing facial aesthetic surgery for over 34 years including; facelifts, blepharoplasty (eyelid lift) along with neck lifts and brow lifts.  These surgeries can have a dramatic effect on helping men and women look about 9-10 years younger than their actual age, but as time goes by, some of the result can diminish, often due to the quality or elasticity of the skin. Maintenance of the skin is necessary to optimize the result of surgery and enhance the anti aging effect.
Recently we have begun to address the texture, tone and tightness of the skin when trying to optimize results for our surgical patients.  We typically recommend that people begin a skin care routine to have their skin in the best possible shape prior to their aesthetic facial surgery. Normally we begin with a laser treatment like our IPL Icon laser to address the tone of the skin. The IPL laser can help eliminate or diminish red spots, broken capillaries, dark hyperpigmentation spots, and other discoloration of the skin caused by environmental damage which can be very aging to the skin. This treatment can be used on any part of the face, neck or body.
The second step of our Eternal Beauty regimen results in improved texture of the skin on the face and neck.  SkinPen micro needling is a simple procedure performed by one of our RN's or medical aestheticians in our office in about 30-40 minutes. SkinPen microneedling is a non-surgical, medical grade precision tool that works by creating a series of microscopic channels into the dermis to stimulate the skin's natural production of new collagen and elastin. which also allow products to penetrate into the deeper layers of the skin enhancing results. We often include the addition of Growth Factors that are applied to the skin while the pores are open for additional benefits.  The SkinPen procedure reduces fine lines and wrinkles and helps restore collagen for a refreshed, younger appearance.  The SkinPen procedure is performed 3 times spaced about one month apart.
The next component of our Eternal Beauty program involves continued tightening and collagen building of the skin through Ultherapy or Exilis Ultra.  Ultherapy uses guided ultrasound to stimulate collagen and Exilis Ultra, a third generation device, uses both ultrasound and radio frequency technology to stimulate the skin to produce collagen.  Ultherapy is a one time treatment, whereas Exilis Ultra requires about 3 treatments spaced 10-14 days apart.   Results from these treatments typically take a few weeks to fully realize the benefit, but some improvement is apparent even immediately following the treatment.  Ultherapy and Exilis Ultra can both be used on the face, neck and décolletage.  Both technologies also help reduce wrinkling and provide a subtle lifting effect while stimulating collagen.
The key to eternal beauty may seem elusive, with good luck and good genes playing a role, but taking great care of your own health and skin care plays a big role in maintaining a beautiful,  youthful glow for much longer than was previously possible.
If you would like more information about our Eternal Beauty program, please call Dr. Ringler at 616.328.8800 to schedule your own personal consultation.