Lifestyle Lift and Other Marketing Scams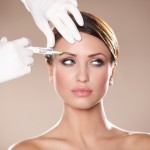 I'm sure you've seen the ads on TV that look too good to be true. A facelift using a "LifeStyle Lift" without anesthesia, no downtime and the Before and After  pictures of a model who looks unbelievable. Then there are the reviews from all of the happy patients. Small wonder that we frequently get calls from prospective patients looking for similar results and wondering whether we perform the LifeStyle Lift at our office.  We don't.
LifeStyle Lift is a business, marketing scheme that allows physicians, not necessarily board certified plastic surgeons, to get referrals based on a kick-back to the company for their broad and deceptive advertising campaign. The LifeStyle Lift is performed under local anesthesia, thereby not requiring the surgery facility to be accredited unless intravenous sedation is used to put patients into  a twilight state. Some of the physicians performing the LifeStyle Lift would never be approved to practice the procedure in a hospital or accredited facility, making it particularly desirable  for the unqualified or unscrupulous practitioner.
This week in Florida, LifeStyle Lift has agreed with terms set forth by the Florida attorney general, Pam Bondi, to stop advertising the procedure as "revolutionary" and to change the language from stating, falsely, that the "facial rejuvenation procedure that is purported by them to be safer and less expensive than other traditional procedures, totally individualized for the client, and offers a quicker recovery time." The only thing remotely "revolutionary" about the LifeStyle Lift is that they've managed to get away with this marketing scam as long as they have.The office was looking at possible violations of the Florida Deceptive and Unfair Trade Practices Act.
Back in 2009, former New York attorney general Andrew Cuomo called Lifestyle Lift's marketing "cynical, manipulative and illegal." At that time, LifeStyle Lift was cited for paying kickbacks to their models for good reviews.  Frequently models for the procedure have  had other procedures performed and the pictures are deliberately deceptive to the consumers.  LifeStyle Lift settled a case with New York's attorney general that found evidence that company employees were posing as satisfied customers.
Lifestyle Lift is yet another case of buyer beware. At least in this instance, New York and Florida have taken some action to stop this deceptive practice and marketing scheme.
If you are considering a facelift, MACS lift for facial rejuvenation, please speak to a board-certified plastic surgery who offers a range of facial rejuvenation procedures individualized for your own specific goals.
For more information about facelift surgery or to schedule a consultation, please call Grand Rapids Plastic Surgeon, Dr. Steven Ringler at 616.328.8800