Maintaining Youthful Looking Breasts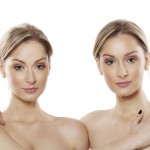 If you're concerned about keeping your breasts more youthful looking but aren't sure if there is much you can do to control how your breasts age, a new study of identical twins may provide some clues. A controlled study of identical twins by Dr. Hooman T. Soltanian from the University Hospital Case Medical Center in Cleveland indicates that factors such as; breastfeeding, moisturizing, and hormone- replacement therapy after menopause significantly decreased the perceived aging of the breasts. Factors that negatively impacted the appearance of the breasts and accelerated the appearance of aging in breasts included; cigarette smoking, higher BMI, alcohol consumption, multiple pregnancies, and larger breasts and cup sizes. The study was published in the September issue of the Aesthetic Surgery Journal and is entitled "Determinants of Breast Appearance and Aging in Twins."
The researchers in this study looked at 161 sets of twins with a mean age of 47.6 years old during 2009 & 2010. In a blind study, plastic surgery residents subjectively rated the breasts of identical twins using standard medical photographs. The ratings were then analyzed against the personal history and medical background of the patients to determine how external factors helped determine the attractiveness of the breasts. The twins who moisturized their breasts daily had far fewer wrinkles in their breast, those who received hormone replacement therapy after menopause rated higher on attractiveness of the breast size, shape projection, areolar shape and size. Breastfeeding was also positively correlated with better breast skin quality, but less attractive areolar shape and size. The twins who had breasts that were rated less attractive were those who had larger cup sizes, higher number of pregnancies, smoked cigarettes, had higher BMI's and consumed alcohol.
This study shows that although much of how breasts develop and age is genetic, there are lifestyle choices and behaviors that can also positively or negatively impact how the breasts age.
If you are interested in learning more about options in breast surgery, such as; breast lift, breast reduction or breast augmentation, please contact Dr. Steven Ringler for a private consultation appointment.