Reasons for Seeking Breast Surgery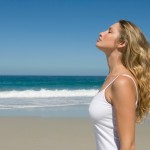 For those who are comfortable with their breasts, there can be a bit of mystery or misunderstanding as to what prompts women to seek out plastic surgery of the breast. Rarely do women seek out breast surgery because they want very large, or overly conspicuous breasts. Most women are seeking a natural appearance that results in better balance for their figure.
As is often the case in nature, there is frequently a case of too much or too little in terms of breast endowment. For many women seeking breast implants, there have been issues with being flat chested since adolescence. Often these women are petite or very thin, and they may have watched their friends develop to into curvaceous women while they remained more or less, flat chested. This can be a cause for diminished self-esteem in the teen years and many women make a decision toward breast augmentation once they are in college, in a career or married. Most often women don't wish to be overly large, but have more balance in their figure so that clothing fits better and they are comfortable in a bathing suit or evening clothes.
Women with early breast development may seem like the lucky ones, but teenaged girls with large breasts are often self-conscious and embarrassed by overly large breasts. Unwanted attention and hiding behind baggy clothing is not unusual for these women. Often shoulder or back pain accompanies having over developed or pendulous breasts. For these women, breast reduction surgery can provide better balance for their figure, eliminate back and shoulder pain, and also eliminate some unwanted attention.
After pregnancy, often women who were once happy with their breast size, find their breasts beginning to sag and often seek out a breast augmentation or a breast-lift. This surgery can also accompany a Mommy-Makeover where a breast lift or augmentation is combined with a tummy tuck to help restore breast volume and flatten their abdomen following pregnancies.
Whatever the reason, if you are seeking more information on breast surgery, please contact Dr. Steven Ringler, about options that are available to you.