Reduce a Double Chin with the CoolMini™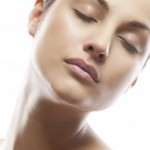 Trying to reduce a double chin has now become more attainable with Zeltiq's new CoolMini™ applicator. Despite our best efforts, stubborn fat often refuses to budge regardless of exercise or weight loss. Isolated pockets of stubborn fat can be a concern even to individuals who are very thin.
Using the same technology as CoolSculpting to freeze the fat, the small CoolMini™ applicator fits nicely in areas that are hard to treat with the larger CoolSculpting applicator. CoolMini™ is FDA cleared to treat the submental area (area under the chin), but off label uses include other small areas of fat that may be difficult to reach with the larger CoolSculpting applicator like knees, arms or small areas of back fat.
As with all CoolSculpting, the CoolMini™ is an office procedure whereby the device suctions the area to be treated and freezes the fat cells. The procedure takes about an hour and one or two sessions spaced six weeks apart are typically recommended. About a 20% reduction of  fat in the treatment area will be eliminated per session. As with CoolSculpting, results are fully realized after about 3 months. Some examples of results from the company can be results seen here.
The Center for Aesthetics and Plastic Surgery was the first office in Grand Rapids able to offer CoolSculpting, Ultherapy, Exilis Elite, PrecisionTX and Vanquish as non-surgical options to our patients. Our R.N.'s and medical aestheticans have extensive credentials and experience in all areas of non-surgical services. The CoolMini™, along with the injectable option Kybella, offers one more alternative to our patients who are interested in effective non-surgical options for improving the neckline and chin. We are happy to discuss the various treatment options with you when you make a complimentary consultation with one of our non-surgical service providers.
Please call Dr. Ringler at 616.328.8800 to find out more about your options for surgical and non-surgical plastic surgery services.