Silicone Implant Safety Reviewed by FDA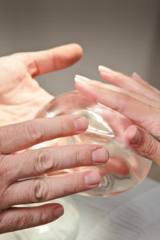 Based on a study it conducted about silicone implant safety, the FDA has released a statement and the news is good for consumers and plastic surgeons.
After conducting an in-depth study of silicone implant safety, the FDA has confirmed that silicone gel implants "have a reasonable assurance of safety and effectiveness when used as labeled." For consumers, this means silicone gel implant augmentations performed by a board certified plastic surgeon, and maintained as instructed, should present no extreme health issues for the patient.
The FDA's silicone implant safety study also debunked a rumor that silicone breast implants share an association with "connective tissue disease, breast cancer, or reproductive problems." Based on current data, the FDA said there is no detected connection.
Long-Term Silicone Implant Safety Tips
Women who are considering silicone breast implants should note that though breast implants are long-lasting, no such implant will last a lifetime. Over the course of her life, a woman who has gotten breast implants will likely need to have them replaced.
Patients will need to monitor their silicone gel implants over time and note any signs of complication to their surgeon. Some women may experience a hardening of tissue around the breast, called capsular contracture, or may have a revision or removal surgery.
Silicone implant safety monitoring also extends to visiting your doctor for screenings. Periodic MRIs can detect a "silent rupture" of the implant, which the patient may not be aware of. As an added precaution for women both with and without silicone gel implants, it is important to continue regular mammograms, as directed by your doctor.
Silicone gel implants are used not only for breast augmentation, but often as a part of breast lift surgeries, as well.