The Difference Between Breast Implant Options with Dr. Ringler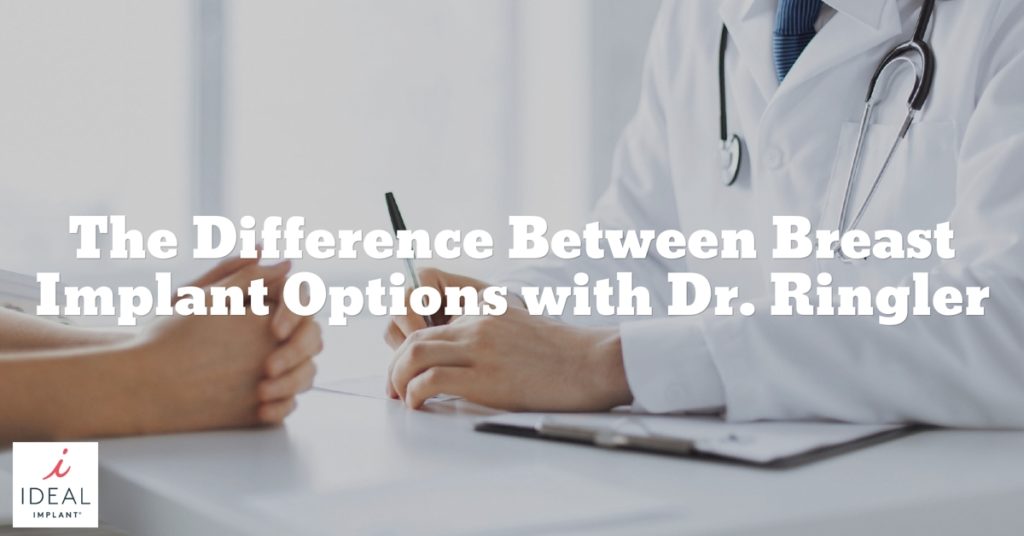 Women no longer have to compromise beauty for security. A new type of breast implant now combines the natural feel of silicone gel, with the peace of mind of saline. The IDEAL IMPLANT® Structured Breast Implant is a technology-driven option that uses an advanced internal structure to provide all the benefits, without the drawbacks, of both saline and silicone implants. As an IDEAL IMPLANT Premier Surgeon, Dr. Steven Ringler is among an exclusive network of board-certified plastic surgeons eligible to offer the IDEAL IMPLANT.
Saline Versus Silicone Implants
Dr. Ringler strives to provide the latest in implant technology to his patients. The revolutionary design of the IDEAL IMPLANT sets it apart from other breast implant options.
Though Dr. Ringler is renown for his natural looking results using saline breast implants, the IDEAL IMPLANT offers some improvements over traditional saline implants.. With no internal support, they can lack the ability to control the movement of the saline filler, sometimes creating a less-than-natural look and feel. If not filled properly, women may also see wrinkling and rippling to the skin with saline implants. So why choose saline? Because if an implant ruptures, the body harmlessly absorbs the sterile saltwater solution, and no MRI scan is needed to detect the rupture.
Silicone gel breast implants inherently come with the risk of "silent rupture," and require an MRI scan to detect rupture. This means silicone implants can rupture at any time without a woman knowing that sticky silicone gel is leaking into the surrounding tissues of her body. A physical examination alone cannot detect rupture, and this is why the FDA recommends women with silicone implants get an MRI every 3-4 years.. Once a silicone implant ruptures, it needs to be replaced which is a significant added expense and inconvenience for the patient.
Watch the informational video below to learn more about your breast implant options.
About the IDEAL IMPLANT
The IDEAL IMPLANT is made up of a series of implant shells nested together that hold two separate chambers filled with saline. This unique design:
Reduces wrinkling and rippling commonly associated with saline

Supports the implant when upright to prevent collapse

Mitigates sloshing and controls the movement of the saline throughout the implant

Provides a natural feel and realistic look expected with silicone gel

Carries no risk of "silent rupture"
Dr. Ringler says this about the IDEAL IMPLANT:
"When I first started using them, my staff that uploads my photos,  started telling me I was getting better results. I always thought I had pretty good results all along, so to find out from my employees that the IDEAL IMPLANT results were better, I started looking at them, comparing them to my saline breast augmentation that I thought were pretty good. But I think what I've really noticed with the IDEAL IMPLANT, is the shape of the breast is quite a bit better. Patients have had a very high level of satisfaction. I've not had anybody come back saying that they weren't happy with the IDEAL IMPLANT. And now, I'm getting many patients coming in who have heard about the IDEAL IMPLANT. They've seen them online. They've heard from other patients. They're starting to ask for the IDEAL IMPLANT by name . . . I like the shape of the IDEAL IMPLANT. I think the clinical results are better . . . Even with a silicone gel or traditional saline, I don't think the shape in those patients is as good as with the IDEAL IMPLANT."
Considering Your Breast Implant Options?
Patient education is very important to Dr. Ringler. He takes the time to address the concerns and answer the questions of his patients. He wants women to understand their breast implant options before undergoing breast augmentation. He says:
"When I'm talking to patients about implants, I always talk about silicone gel also. If it's a silicone gel implant, I tell them that many surgeons are recommending replacement every 10 to 15 years. I also tell them the issues about requiring an MRI. With a traditional saline or the IDEAL IMPLANT, I tell them my 20-year data is 1.8% deflation rate. [Note: For the IDEAL IMPLANT, the seven-year data shows a 1.8% deflation rate.] So I'm an optimist, 98% don't leak. If the implant doesn't leak, and they're not having problems with implant position, or scar tissue, then there's no reason to replace the implant. Nobody can guarantee that the implants are going to last their whole life, but I have patients who've had saline implants in for 30 years and are doing just fine. At that point, there's no reason to replace them, unless they're having an issue . . . There's not a long-term necessity to change the saline implant if they're not having problems."
Patient Reviews
Dr. Ringler's patients say it best. A Google review by G I  reads: "Dr. Ringler was incredibly welcoming and friendly the entire procedure. He explained everything that he was doing and made me feel completely at ease. He is extremely knowledgeable and I was able to ask him whatever questions I had and get detailed responses that I could easily understand. I will absolutely be seeing him again!"
A review on Realself.com from SW states: "Dr Ringler and his staff are great. From his office to the surgical care facility everyone was professional and friendly. My experience with both his office and surgical care center was very positive. I would highly recommend Dr Ringler."
The IDEAL IMPLANT with Dr. Ringler
Dr. Ringler can help you accomplish your goals. His personalized care will leave you feeling empowered and more confident. Learn more about his practice in Grand Rapids, Michigan by visiting stevenringlermd.com, or call 616-328-8800 today to schedule your no-obligation consultation.