Turn back the Clock with Forever Young BBL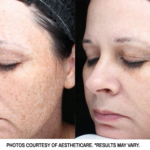 If you're bothered by red spots, brown spots, fine lines and wrinkles, freckles, redness or other signs of aging skin, Forever Young BBL® technology by Sciton will be of interest to you.  This innovative infrared light technology rejuvenates the skin to target the signs of aging., Forever Young BBL® is the only device that has been shown to actually change the expression of genes associated with aging, longevity, and increased lifespan. In addition, it can be used to treat those with active acne and for unwanted hair removal.
With regular Forever Young BBL treatments, your skill will look smoother, clearer and younger for much longer.  In one international study, Forever Young BLL® patients who were treated regularly for over a 7 -year period had skin that actually appeared younger than when the study began. It is one of the few non-surgical technologies that can effectively help turn back the clock.
Nearly anyone  who is interested in reducing the signs of aging can safely be treated with Forever Young BBL, and it can be customized for all skin types and skin tones.  Additionally, Forever Young BBL® can be used on any part of the body; face, neck, chest, arms and legs.   Forever Young BBL® addresses the underlying layers of the skin where most aging occurs. It also stimulates the body's natural ability to regenerate new skin.  In our office, we often recommend Forever Young BBL® in addition to a Halo Hybrid Fractional Laser treatment that addresses wrinkles, sun damage, scars, enlarged pores and skin irregularities leaving the skin with a youthful glow.
Typically, 3-4 Forever Young BBL treatments are recommended spaced about 4 weeks apart for effective treatment.  A maintenance program of two treatments a year will help maintain the beautiful improvement of your skin.  Additionally, we recommend a high-quality medical skin care program to be used throughout the year along with an excellent broad spectrum sunscreen.
If you're interested in learning more about Forever Young BBL®, please contact Dr. Ringler to set up a private consultation.