Ultherapy – The Future of Facial Rejuvenation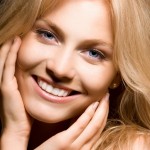 Grand Rapids Ultherapy treatment may be the future of facial rejuvenation. Ultherapy utilizes ultrasound technology which enables Dr. Ringler to see below the surface of the skin down to the soft tissue. Using these ultrasound waves, the selective heating stimulates the body's natural production of collagen to gradually create a natural looking lift and rejuvenation. The treatment only takes about  45 minutes to an hour and there is no downtime following the procedure.
Ultherapy is a great option for men and women who are not yet ready for a face lift procedure but have some sagging of the brow, crows feet or jowls. The results occur gradually, are very natural and typically last for about one year.
Patients have been extremely receptive and excited about Ultherapy treatments. It's certainly not a replacement for face lift surgery, but for some patients it can be a way to stay looking younger and refreshed for longer so that there may be no need for a face lift in their future.
For patients who have had a facelift, Ultherapy may help improve or extend the result. If subsequent Ultherapy treatments are performed, the new collagen generated from the initial treatment also  typically provides improved results.  Many patients also benefit from the skin tightening of Ultherapy when used in combination with Botox and facial fillers.
To learn more about Ultherapy, please contact our office today to schedule an appointment and find out if Ultherapy may be right for you.