Vanquish FLEX – A New Method of Contouring Thighs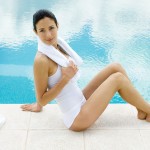 We're excited to introduce Vanquish FLEX, a new non-surgical method of contouring thighs through radiofrequency technology. Many of our patients work hard at keeping in great shape, but are troubled by small areas of fat that are hard to reduce through diet and exercise alone. Areas of fat around the thighs can be particularly difficult to address with our existing non-surgical fat reducing technology: CoolSculpting and Vanquish.
The issue in treating the thigh area successfully in the past has been the configuration of the devices. CoolSculpting uses cryolipolisis to freeze fat, but requires the area to be pulled into the treatment paddles: awkward for the thigh area. The typical Vanquish applicator that heats the fat cells through radio-frequency technology was too large to address the thigh area uniformly as well.
This is where the Vanquish FLEX is revolutionary. It offers flexible treatment panels that do not come in direct contact with the skin, but rather are placed around the patient's thighs for a perfect fit. Like Vanquish, the radio-frequency technology works beneath the surface to heat and destroy fat cells. The procedure takes about 45 minutes to perform and  requires several sessions spaced a week or so apart. Patients need to remain well hydrated prior to and subsequent to treatment.
Most patients find the treatment sessions to be quite relaxing, as the panels get warm and the device heats up. Final results are realized shortly after the last treatment session, but can become noticeable after a couple of sessions. Vanquish FLEX is arriving at our office this month, just in time for those who want to look their best in shorts or bathing suit this summer, but feel their thighs could use a little more contouring.
If you would like more information about Vanquish FLEX, please contact Dr. Ringler.