Vanquish Non-Surgical Fat Reduction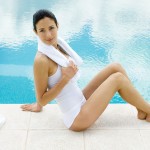 We are happy to announce a newcomer in the non-surgical fat reduction arena; Vanquish by BTL Aesthetics. Unlike CoolSculpting, which reduces a very specific area of fat by freezing,  Vanquish utilizes multi-focused radio frequency technology to heat and reduce fat in a broader treatment area.  Vanquish is able to target fat beneath the skin and heat  it to 120 degrees while maintaining a temperature of 101 degrees on the surface of the skin.  FDA cleared for deep tissue heating, a known form of fat reduction, Vanquish destroys the fat cells which are later eliminated naturally through the body's own metabolic process.
While not a replacement for weight loss, diet or exercise, Vanquish is beneficial for those who are within about 10 percent of their ideal weight but have isolated areas of fat on their abdomen, flanks or back that they wish to reduce. The Vanquish treatment is performed in the office in 45 minute sessions and requires no downtime.
Vanquish is performed without anesthesia or sedation. The device, which feels warm, is placed over the entire treatment area, but does not come in direct contact with the body.  No pain is felt during the procedure. In fact, most patients find the Vanquish procedure to be rather relaxing. During the 45-minute session, the high internal temperature will result in a natural process of fat cell death called apoptosis. The entire fat cell is destroyed for long lasting results.
It is important to be very well hydrated prior to the Vanquish procedure to allow the device to target the fat cells more readily. It is also important that patients remain well hydrated for a few days following the procedure to aid the body in eliminating the fat cells.  For optimal results,  4-6 sessions of Vanquish spaced one week apart are recommended.  It takes about 1 month following the final treatment for results to be fully realized.
Not a weight loss treatment, Vanquish can help contour the body and reduce isolated areas of fat.  According to a study by BTL, most patients report a loss of about 59% of fat in the treated area following  4 treatment sessions.  A loss of about 2-2.5 inches is considered typical.  There is no downtime associated with Vanquish fat reduction, and patients return to work or their daily activities immediately following treatment. Some temporary redness or tenderness may occur in the treatment area for a few hours following the treatment.  Exercise is also permitted immediately following treatment provided you remain well hydrated.  Unlike CoolSculpting, which only treats the areas that fit within the treatment paddle, Vanquish is able to treat the abdomen and flanks at the same time for more comprehensive body contouring experience.
If you would like to learn more about Vanquish or any of our other body-contouring options, please contact Dr. Ringler at 616.328.8800.