Getting Rid of a Turkey Neck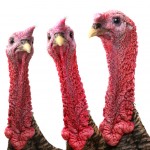 A very common complaint we hear from men and women is that they hate their neck, and more specifically, they want to get rid of their "turkey neck."  It isn't surprising given that the skin on the neck is one of the first to show signs of aging.  Frequently when we apply sunscreen, the exposed area of the neck is neglected.  It is fairly apparent to many people who notice the skin under their chin looks pretty good, while the skin at the bottom of their neck looks saggy, wrinkled or bumpy.
Some people have a genetic predisposition toward a sagging neck, but many people don't begin to notice the signs of sagging and uneven texture until their mid-forties when skin begins to lose some elasticity.
Fortunately, depending on the level of concern and the condition of the neck, there are several ways to address the problem.  The first would be through excellent skin care and the use of a product with Retin-A to help with firming and other products that are considered anti-aging for the face like those with peptides to help firm and restore the skin.  Using a broad -spectrum sunscreen on the neck daily is also an important preventative measure. Many patients find the use of Botox to the neck area can be beneficial.
For those who choose to be more aggressive with treatment, there are some excellent non-surgical options like the Exilis Elite, which uses radio-frequency to help heat and tighten the skin and accelerate the building of collagen.  Ultherapy is another technique that uses focused ultrasound technology to stimulate collagen often providing significant tightening to the neck and providing improved skin tone.
Often those who don't like their neck, site that little pocket of fat that tends to rest under the chin or the look of those platysmal bands that begin to show through skin that has become thinner as primary concerns.  These areas are best addressed through a neck lift, which is often combined with liposuction and frequently with a lower facelift.
There are many options for helping a neck that is showing signs of environmental damage or aging. Luckily, today no one really needs to live with a "turkey neck" except for turkeys.
If you are interested in learning more about options for improving your neck, please call Dr. Steven Ringler during business hours for a consultation.